Everyone knows that the cost of college has skyrocketed over the past few decades, and also that it's better to take classes taught by tenure-track faculty and a damned shame that all these fricking TAs are leading sections. It's just common knowledge. Kevin Carey of the New America Foundation's Education Policy Program tells us what we already know in this interview on NPR's Fresh Air. (NB: I'm on Malawian cell-phone internet right now so I just read the article and can't listen to the actual recording, but the article is mostly verbatim quotes from Carey).
Unfortunately, neither of these facts are particularly backed up by the evidence. The latter point is kind of weird to begin with: have any of the people bemoaning the rise of lecturers in teaching actually taken any classes taught by faculty on the tenure track? Adjuncts and lecturers are hired for, and evaluated on, their teaching. I've had almost uniformly good experiences in their classes. Tenure-track professors, on the other hand, are paid for and focused on their research. Some are amazing teachers, especially for graduate-level courses, but back when I was an undergrad I had lots of professors who were awful teachers. Carey even admits as much later in the article, so why make this hackneyed complaint about adjuncts? If we want to improve higher education, one place to start would be to give this much-maligned group credit for being the dedicated and highly-qualified educators they are, rather than deferring to the archaic status system of academia.
But costs are definitely rising, right? I wouldn't be so sure: the alleged increases of inflation + 4% are the sticker price of college, not the cost people actually pay, which includes grants and financial aid. Those prices have been rising far slower than the sticker price, and for private universities have actually fallen in nominal terms, according to this graph (ironically taken from a different NPR article which I found via Susan Dynarski):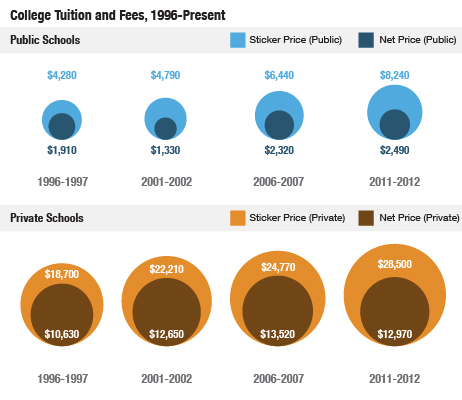 That doesn't include room and board, but financial aid can help with those ancillary costs as well. Assuming I'm reading it properly (the article is sparse on details) then the true price of college has risen slower than inflation and has actually fallen in real terms for both public and private schools. That's very different from the take you typically get in stories like the Carey interview.
The only downside to this positive trend is that not enough people are aware of how much financial aid is available to them, and often the worst-informed prospective students come from the poorest families. It does them a major disservice to harp on the huge and rising costs of a college education without also noting that very few people pay full price. One reason for America's poor college attendance figures is that while people understand the payoffs to a degree, they overestimate the costs. This hits disadvantaged students the hardest – they stand to benefit the most from financial aid and tend to understand it the worst – but even the well-off need help figuring out what college actually costs and learning how to work the system in their favor. One of my dad's businesses focuses on coaching students and their parents through the college application process, and the area where people consistently need the most help is in understanding costs, financial aid and scholarships.
Hat tip: My mother, via email