One of the many pleasant surprises I encountered on upon arriving in Malawi last year was learning that the country's markets stock Passion-fruit flavored Fanta, which is arguably the greatest soda in the world. I've always been fond of passion fruit juice, and when I discovered it came in soda form (back in 2004, in Tanzania) it was love at first sight. It doesn't hurt that Passion Fanta mixes quite nicely with Konyagi, a Tanzanian liquor that I mainly came across in what are basically ketchup packet shots.
If last summer was a happy reunion, then this summer so far – foreshadowed by my week-long visit in April – has been a slow, painful farewell. Passion Fanta is stocked out ("finished", in Malawian English) virtually everywhere and almost no one seems to know quite why. In Lilongwe, other than the dregs of past crates still available in a very few restaurants, it's been relegated to the back of a single shelf at Spar: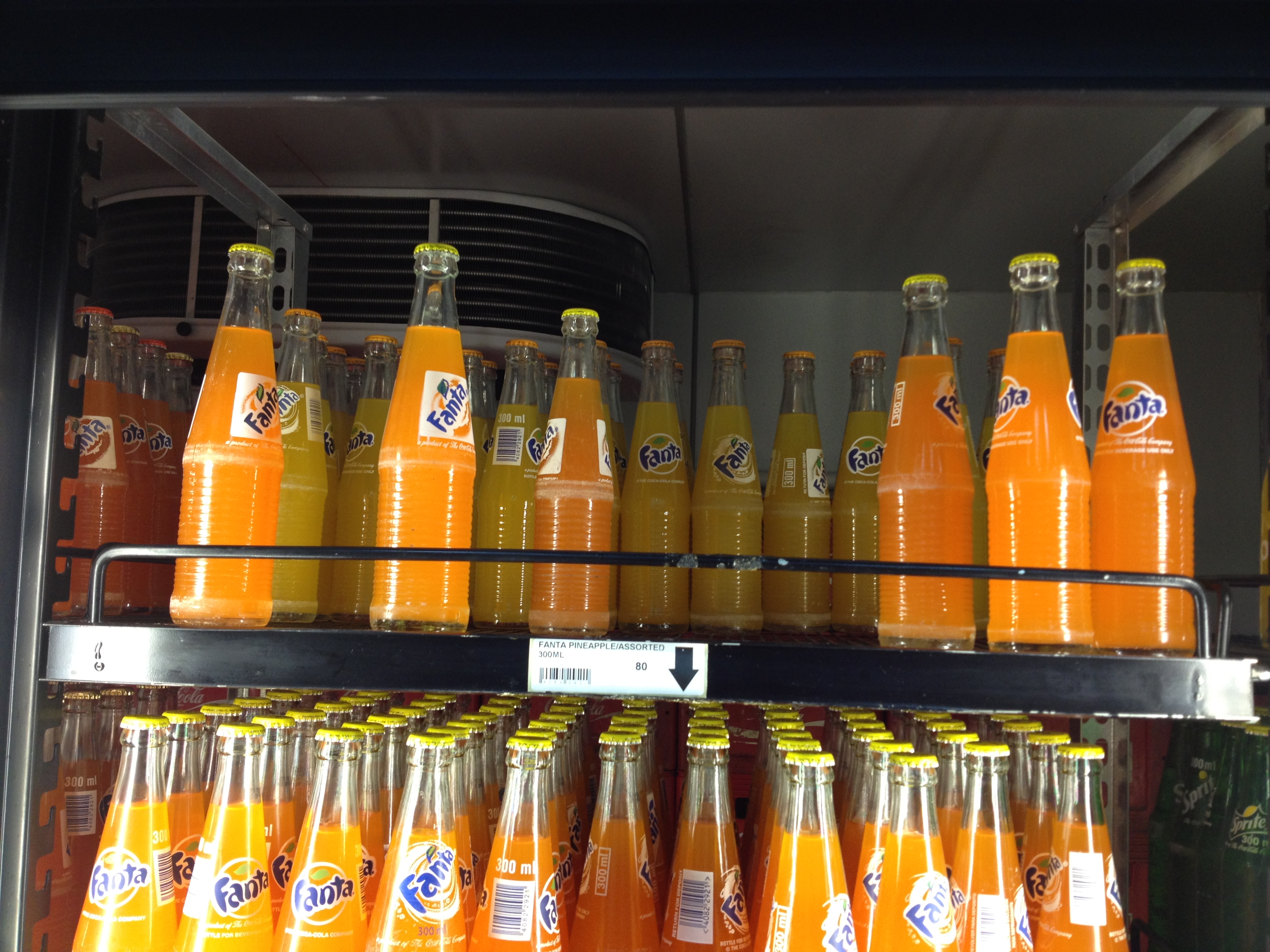 What happened to my favorite soda? One theory advanced by a clerk at Metro Cash & Carry is that Fanta Passion sells out fast because it's more popular than the other flavors – he said they got 100 crates of the stuff last year (that's 2400 bottles),and it's all gone now. While this flies in the face of basic economic theory (high demand should lead to a larger quantity traded in the market, not lead to stockouts) it's consistent with stuff I've read in the past about why certain items (bananas, t-shirts that fit a regular human) always sell out first.
A major hindrance in tracking down the source of the shortage is that I'm not even sure where exactly Fanta Passion comes from. Fanta is famously obtuse about which flavors are available where, probably because most are made by local franchisees. Passion fruit flavor is, as far as I know, found only in this part of Africa; it used to be in Australia and allegedly was a promo flavor in Brazil. The bottles themselves are no help at all; they are reusable glass with no markings of an origin.
My working theory, based on conversations with wholesalers, is that Fanta Passion is being made in Tanzania and was previously imported into Malawi, a trade that was screwed up by foreign exchange shortages. The only shortcoming of this theory is that it makes no sense: Fanta Passion flowed like water last year at the height of the foreign exchange crisis, and now, with forex relatively plentiful, it's gone. Another option is that the trade just wasn't smart business. All flavors of Fanta sell for the same price (even now, with Passion almost extinct); why offer Passion, which costs you far more to transport to the point of sale, when the Orange flavor is made in Malawi?